Amy Ausi- My first Aussie Friend :)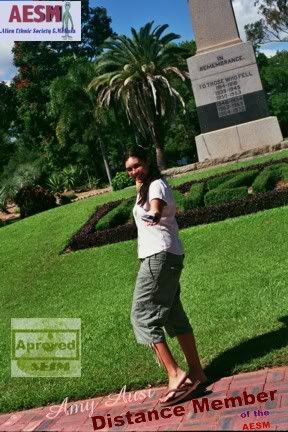 This picture was taken at the Japanese Gardens on Easter. She is always ragging on me how I choose ugly pictures... I hope I used an OK one this time. I did some editing on my computer. Yes I am aware that I spelt approved wrong.
I wrote my friend Amy a story. It is weird, but it's a memento to the A.E.S.M. Only my friends would know, because it is laced with inside jokes, Russian Canadian, lesbian firefighter, etc. Its a Wild Will story. I haven't thought of a proper title yet. I asked Chris but it was vulgar and inappropriate, as always. It's a good thing he is my friend or I would hit him. His suggestion was Vagina an Amy or You're so Amy. I picked the second one.
I have always noticed that my stories have a story behind it? Well this one does too. Sometimes even the characters have stories behind it. I wrote this story for Amy as a going away present. I wrote stories for my brother for Christmas; this is how I thought about writing her one. I like to write people a story because I feel it's a way of giving a piece of me, as my stories are a big part of myself. I glad she is my friend.. I think was somehow inspired me to talk about Bollywood, to Amy when I first met her because it's not something I usually talk about
Amy: Best of luck in Canberra and quite spamming my blog. Just kidding! Oh and you're right Chris does bring out the weirdness in me. .Let me know what you think. I might just write you another story. A non-Wild Will story and you can be Indian and marry a guy named Raul. I'll be the eccentric cynic and you will be the lovely optimist. Enjoy the story.
P.S Wild Will

Read the story in my blog Adorkable tales